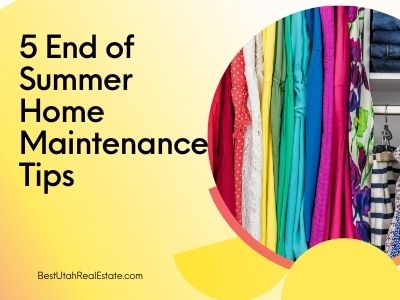 If you're floating through 2021 with a little bit of time on your hands considering some parts of the country are still working from, here are some home maintenance tips and hacks to help your home stay in top condition.
#1. De-clutter.
Even if you're not planning on selling your home now is a great time to de-clutter the house, especially if you're going from summer clothes to winter clothes sometime soon. Make baskets or bins of items to donate, throw away, sell and keep and then organize the remaining into areas into closets and storage that are easy to get to.
#2. Make a list of home maintenance.
Now is a good time to make a checklist of any home maintenance projects that you may have put off over the summer. I know, a lot of us had plenty of time on our hands but we still may have procrastinated on those home improvement projects. Do you have a broken icemaker, rattling furnace, scuffs and gouges in doors and walls? All of these little things can be tackled one at a time. It's not even something that you have to worry about all at once but by making a checklist, you can get it out of your brain, see it in front of you, and check it off as you go.
#3. Keep a checklist for ongoing home maintenance.
Once you've tackled some of the projects that needed to be done, make a list to keep up on home maintenance items. This means perhaps scheduling service on your furnace, HVAC systems, water heaters, gutters, and other home maintenance materials and items. By scheduling it out and putting it into your calendar, you can prioritize these items and make sure that your home is kept in tip top shape. It's a great time to schedule a cleaning on your furnace before the weather turns cold.
Make a list of the items that will need cleaning over the next couple of months such as window and door tracks, decreasing the top of the refrigerator and cabinets in the kitchen, wiping down cabinets and countertops, cleaning out closets, under the stairs, and cupboards that typically don't get a thorough cleaning.
#4.Start on the curb appeal.
While most yards are looking pretty drythese days, you don't need to undertake an entire landscaping project in the middle of the heat of summer. But, it might just take a good cleanup by raking, pulling weeds, pruning trees, and trimming bushes. By keeping ahead of the landscaping maintenance, your home and your property will thank you for months to come.
#5. Get a jump on holiday cleaning.
While your de-cluttering and prioritizing maintenance, you can also get a jump on holiday organization. The holidays will be here before you know it.While you're organizing that storage, start filtering out old holiday decorations and get rid of them before the holiday. Now is a great time to sell them on places like Offer Up, Let Go and Facebook as people will want them before the holiday, not after.
By making a home maintenance list for your home you can take at least a few things off of your plate. It's amazing what cleaning and decluttering your house can actually do for your mind and your emotions. It can cause you to be much less stressed, create a sense of calm and peacefulness in your home, and those little maintenance tasks won't be gnawing at you come summer, when you really just want to get out and enjoy the sunshine.
Ready to buy or sell in St. George Utah? That's what we do! Expert care for your real estate transaction throughout the Southern Utah area. Contact our office at any time for all St. George real estate and properties in the surrounding areas.
Great tips for homeowners: